Have you heard of the Downtown Hollywood Mural Project? If not, you should, because Hollywood, FL, is becoming one of the new art destinations across the country. Like the Fort Lauderdale Art & Design Week, Hollywood is branching out to create artHollywood. Between that development, the Hollywood Arts and Culture Center, and the mural project, it's becoming a must-see for art in South Florida.
About the Downtown Hollywood Mural Project
The Downtown Hollywood Mural Project is a collection of curated outdoor murals by local, national, and internationally recognized artists presented by the CRA of Hollywood.
Artists include Tatiana Suarez, Rone, The London Police, Ernesto Maranje, Logan Hicks, and Kenny Scharf.
The program's goal is to curate contemporary outdoor murals at key locations in Downtown Hollywood to enhance and enrich the existing cultural fabric of our community, thereby attracting more art-related activities, businesses, and events.
Map of the Murals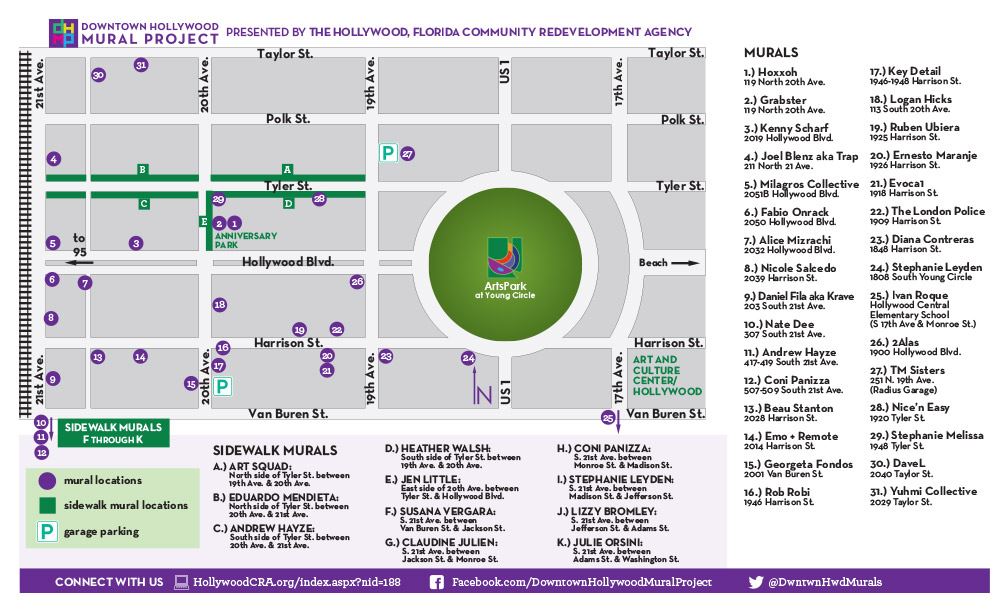 Mural Tours
If you are interested in viewing the art, you should take a tour! Luckily, the city has you covered. Every 3rd Saturday ArtWalk, you can join a group and explore the art on foot. To get started meet at the Visitor Center Information Booth at the intersection of Harrison Street and 20th Avenue at 6 pm.
The tour lasts approximately one hour, is free, and is open to all ages. You will love it, and as of this past week, Artmatcher Art Tags can now be found on the pieces!
Just tap your phone on an Art Tag to learn more about the piece!